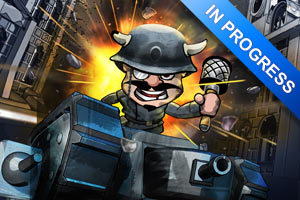 The year is 1914 but not the 1914 that you've read about in your history books. In a multiverse of infinite possibilities, here is a 1914 where the development of technology chose.... a different path.

Dergany, a republic in name but a dictatorship by nature, blazed a trail in the technology of war; a trail it knew all too well.
After devouring their own resources in the relentless pursuit of the perfect war machine, their covetous eyes turned to their prosperous neighbours.

The vast Colossia, with its huge tracts of wild lands and abundant mineral wealth was too tempting a fruit, apparently ripe for the picking....

On the 3rd of May 1914, temptation turned to action. Dergany struck at Colossias precious northern provinces and thus began a bloody conflict, the outcome of which would define the path of Man.


Game stand-out features:
• Engage tactical duels with friends – test your wits in combats based on a popular 'Whac-a-Mole' arcade game
• Compete in real-time PvP – conquer territories, take control over oil deposits, and wipe off your opponents;
• Manage your own military base – run and upgrade it to build IFVs, recruit soldiers and mechanics, produce power-ups and modifications;
• Call for reinforcements – request more IFVs from your military base by air.
---
Щелкните по изображению, чтобы увеличить его:
---
Системные требования:
TBA